(1) Proving Jesus (Yeshua) is the Jewish Messiah:
A Comprehensive Refutation of Jewish Anti-missionaries.
By Todd D. Weiner.
Jews for Judaism, and other anti-missionaries like them, are actively engaged in turning Jewish people away from Yeshua. We directly quote and refute the technical arguments taken from the anti-missionaries best books and apologists. Yet, my book is designed with the laymen in mind. It is written in the most simple, non-technical language possible. It is also designed to be a mini-crash course about the history of the Jewish people and the birth of Messianic expectation.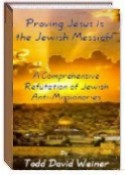 Ebook is available From
Christian Writers Ebook
Book Table of Contents
Preface
PART ONE: IN SEARCH OF THE MESSIAH
Chapter 1: The Birth of Messianic Expectation
Chapter 2: The Messiah Nobody Expected
PART TWO: PROOFS OF JESUS' MESSIAHSHIP
Chapter 3: The Necessity of Sacrifice
Chapter 4: Anti-Missionary Objections to Blood Sacrifice
Chapter 5: The Prophecies of Isaiah
Chapter 6: The Suffering Messiah of Isaiah 53: Part 1
Chapter 7: The Suffering Messiah of Isaiah 53: Part 2
Chapter 8: The Suffering Messiah of Psalm 22
Chapter 9: Daniel 9:24-27 and the Destruction of Herod's Temple
Chapter 10: Is Cyrus the Messiah of Daniel 9:24-27?
Chapter 11: The Priesthood of Jesus (Psalm 110:4)
Chapter 12: The New Covenant (Jeremiah 31:31-34)
Chapter 13: Until Messiah Comes (Genesis 49:10)
Chapter 14: Born in Bethlehem (Micah 5:2)
Chapter 15: A Prophet Like unto Moses (Deuteronomy 18:15)
Chapter 16: Jesus' Resurrection from the Dead

PART THREE: MORE ANTI-MISSIONARY OBJECTIONS

Chapter 17: Miscellaneous Anti-Missionary Objections

Chapter 18: The Genealogy of Jesus

Chapter 19: Alleged Contradictions in the New Covenant

PART FOUR: PERSECUTION OF THE JEWS

Chapter 20: The Result of National Disobedience

Chapter 21: "Christian" Anti-Semitism through the Years

PART FIVE: THE GRAND RESTORATION

Chapter 22: Israel Accepts Her Messiah!

PART SIX: APPENDIXES

Appendix A Repentance of Sin The Heart of the Issue

Appendix B The Historical Jesus

Appendix C The Trinity: Misconceptions and the Truth

Appendix D The Talmud: Inspired or Uninspired?

Appendix E How to Witness to the Jews

Notes